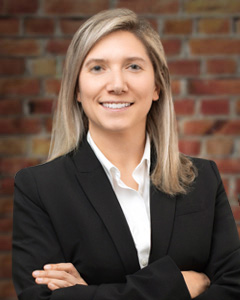 Roxanne M. De La Rocha's practice focuses on employment law and business litigation defense. Her employment law practice focuses on defending against claims of discrimination, retaliation, wrongful termination, and harassment as well as wage and hour disputes. Ms. De La Rocha also represents businesses in breach of contract and misappropriation of trade secrets claims.
Prior to joining TencerSherman, Ms. De La Rocha spent three years litigating special education administrative claims before the California Office of Administrative Hearings and the U.S. District Court for the Southern District of California. Early in her practice, Ms. De La Rocha focused her area of practice on immigration and business law.
Ms. De La Rocha was admitted to the California bar in 2016 after graduating from California Western School of Law. Ms. De La Rocha graduated from the University of California Berkeley with a Bachelor of Arts degree in International Relations with a focus on politics.
Ms. De La Rocha enjoys outdoor activities such as surfing and snowboarding and playing various types of board games.
California Western School of Law, San Diego, California
University of California Berkeley, Berkeley, California
Professional Associations and Memberships: