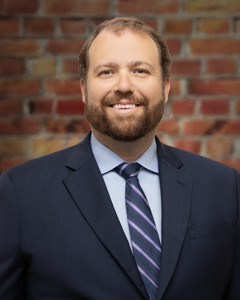 Steven D. Stutsman has over a decade of experience litigating and trying cases on behalf of both business owners and employees. Steve's practice at Tencer Sherman focuses on defending clients against various employment law and business litigation claims including claims of wage and hour violations, wrongful termination, discrimination, harassment, retaliation, personal injury/liability claims, contract disputes, trade secret disputes, and shareholder and partnership disputes. Steve also defends various San Diego area school districts on a wide variety of employment, personal injury, and student sexual assault claims.
Steve vigorously represents his clients and has a track record of obtaining favorable results on behalf of his clients at all phases of litigation from successfully challenging initial pleadings to obtaining summary judgment to negotiating favorable settlements on behalf of his clients. An experience trial lawyer, Steve has served as both second chair and lead trial counsel in a variety of bench and jury trials throughout California.
In addition to representing his clients in the court room, Steve has utilized his extensive litigation experience to work directly with his clients to develop internal policies and procedures that can either help avoid litigation all together or at least position his clients to present the strongest defenses possible when the inevitable claims do arise.
Steve graduated from Boston University in 2006 with a degree in political science and a minor in business administration. He received his juris doctor in 2010 from Loyola Law School, Los Angeles. He served as a Mock Trial team member in both college and law school, where he was recognized as one of the top advocates during various competitions. In 2017, Steve and his family relocated from Los Angeles to San Diego. Steve previously worked as a Partner at an AmLaw 150 law firm before bringing his talent and experience to Tencer Sherman.
When he is not aggressively representing his clients, Steve spends his time with his family enjoying all the wonderful restaurants and activities that San Diego has to offer. He is also an avid sports fan.
Loyola Law School, Los Angeles
Professional Associations and Memberships
Past Employment Positions