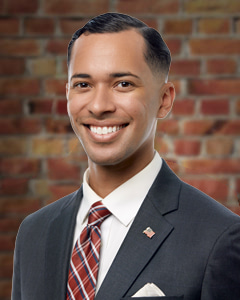 Jordan Jones is an Associate at TencerSherman, LLP. His career has focused on civil litigation defense where he developed skills and strategies in all stages of litigation. Jordan's current practice focuses on employment law, school district defense, and business litigation.
Jordan received his J.D. from the University of San Diego School of Law in 2022 and became a member of the California Bar in November 2022. During law school, Jordan was actively involved in the Student Bar Association, holding leadership positions including 1L Representative, Secretary, and Vice President of Student Organizations. As part of the Student Bar Association's executive team, Jordan helped develop the law school's first Diversity, Equity, and Inclusion Committee to foster connection and well-being among students. Additionally, Jordan was a research assistant for Professor Roy L. Brooks, concentrating research on case law leading to the Supreme Court's recent monumental decisions.
Prior to law school, Jordan attended the University of California, Santa Barbara, and graduated in 2018 with a B.A. in Psychology.
In his free time, Jordan enjoys spending time with friends and family, traveling, skiing, and seeing live music.